<![if !vml]>

<![endif]>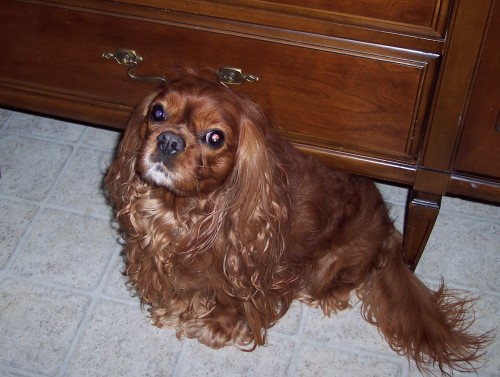 I want another brother to love and play with!!!
Let me tell you a little bit about the kind of brother I am looking for. I would also be very interested in a sister, but I haven't yet convinced mummy to consider a girl. I figure mummy might have to meet a specific girl and fall in love with her to convince her about getting a girl, but I plan to keep trying to talk her into getting a girl anyways. Cavaliers come in four colors - Blenheim, Ruby, Black & Tan, and Tri-color. I am especially looking for just the right Black & Tan Cavalier to add to our family, but the other three colors would be ok too. The important thing is that he should be friendly and easy to get along with and young enough to enjoy lots of playing. And he must have the standard friendly and easy going temperament that is a trait of all good Cavaliers.
Mummy says I must wait until she can afford to pay for him and provide for him, but I do not know why that makes any difference since I am willing to share my toys and food with him. She also says that he must come from a reputable breeder that does heart, eye, hip, and patella testing on his parents (and on him, if he is old enough) and is willing to provide copies of all the test results. Mummy says he should be registered with both the AKC (American Kennel Club) and the CKCSC (Cavalier King Charles Spaniel Club) and that he should be nice looking enough to enter shows just like I used to do.
I also know that mummy will take in Cavaliers (girls & boys) from rescues or shelters or people that can no longer keep their Cavalier, and she will help find good permanent homes for them.
If you know of someone who might have a Cavalier that could be my next brother or sister, please email my mummy .
To use the above email address, remove the parenthesis and everything inside them - (removeme) - before you send the email.