<![if !vml]>

<![endif]>
<![if !vml]>

<![endif]>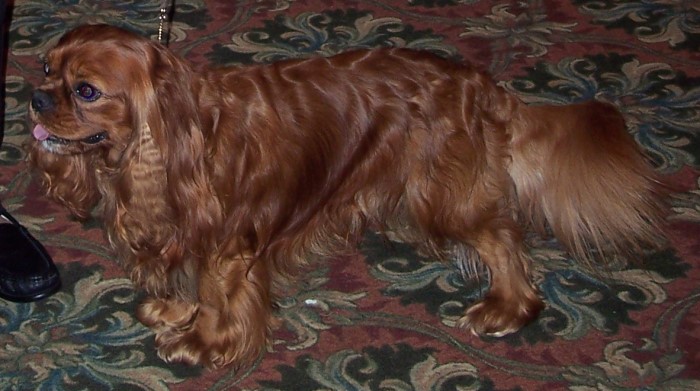 CH Portrait Eternal Flame - Randy
On November 7th, 2006, Randy (CH Portrait Eternal Flame) became a DADDY for the second time! He is now the proud father of one more little fur-child, a handsome little Blenheim boy. He is healthy and happy.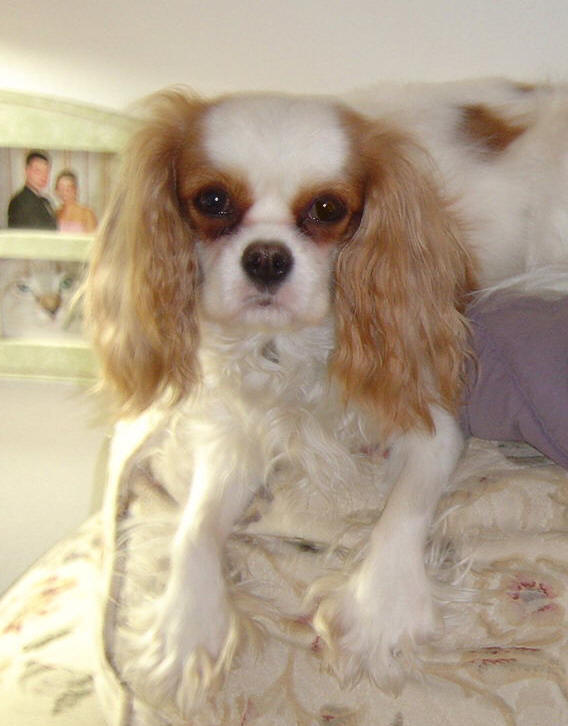 Their mom is Maggie (Sweet Magnolia of Maygarden) a Blenheim Cavalier, owned by Cynthia May in Michigan. She sent us the following email about the little boy's arrival.
Maggie had a c-section today and delivered a 12.7oz beautiful blenheim boy! His face markings look just like Maggie's with a blenheim spot. He has a wonderful head width. Maggie is still under the influence of her pain meds and is very groggy. I placed the little guy with her sister who has a couple pups herself. I'm definitely keeping this little one - not sure of his name yet. I don't want to disturb him - he's being kept warm and fed. I'll send a picture soon.
Thank you so much Teresa,
Cynthia
Age 1 week
Pictures taken November 16, 2006: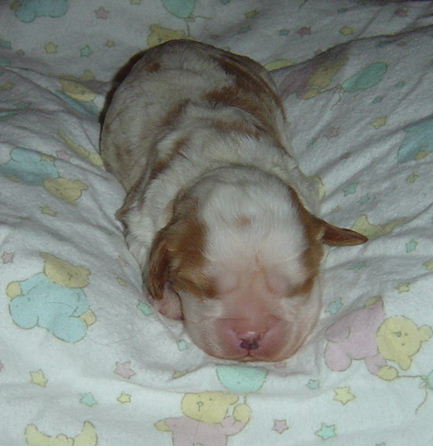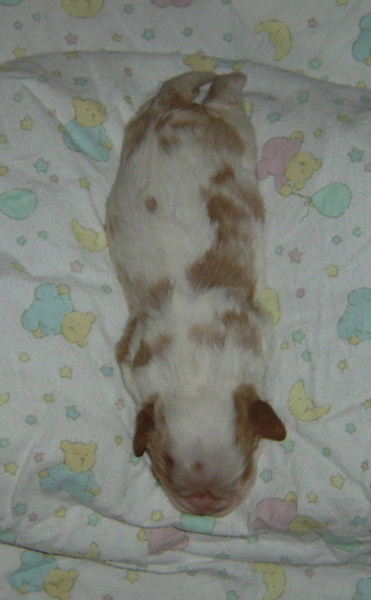 Cynthia has not yet named this little one.
I have updates and photos that will be added here soon.
Important Update - Added 11/18/06
We recently received some very sad news. Just after Randy returned from breeding Maggie, Randy was diagnosed with a heart murmur near the end of September 2006 at age 4 1/2. With Randy now having been diagnosed with a heart murmur prior to age 5, according to the MVD protocol (www.cavalierhealth.org/mvdprotocal.htm and www.premiercavalierinfosite.com/mitralvalvedisease.htm), none of Randy's kids should be used for breeding unless that kid reaches the age of 5 and is still heart clear. Unfortunately, MVD (Mitral Valve Disease) is very common among Cavaliers and leads to a very early death for many of our beloved Cavaliers. For more info see www.cavalierhealth.org, www.premiercavalierinfosite.com, and www.ckcsc.org. - SEE HEALTH UPDATE BELOW (A Welcome Bit of Good News)
<![if !vml]>

<![endif]>A Welcome Bit of Good News! - Added 12/15/07
In August 2007, I received some very welcome good news! Randy had his 1 year follow up with the canine cardiologist and while he still has the murmur, it has not progressed at all and he is expected to live a good many more years. The canine cardiologist explained that canine MVD usually (as general pattern, but no guarantees) falls into one of two kinds - a fast progressing kind that usually claims the dog's life within a few months to a few years OR a slower progressing kind that often does not progress at all for many years and in which cases the dog will usually die of old age or some other illness before the MVD can take them. We have now determined that Randy appears to have the slower kind, and this is a great relief to me!
This all means that while the owners of Randy's children may want to still be cautious and have their hearts thoroughly examined and tested (at least ultrasound and x-ray) by a canine cardiologist before making a final decision about using them in any breeding program, it now looks like it may not be quite as critical an issue (since his heart murmur has not gotten any worse - however, MVD is still a very serious issue in cavaliers) and I am certainly less concerned that he might pass on something to his offspring that might significantly shorten their lives. I will also say that I know next to nothing about genetics and that the two litters Randy has sired this past year have been my only experience with any part of the breeding process. So, I do not know if the MVD protocol I discussed above applies only to the fast progressing kind or if it also applies to the slow kind that Randy appears to have. I also do not know what weight it may carry that Randy did not develop the heart murmur until he was almost 5 years old and Sammi, the mother of Randy's first litter, definitely did make it to five heart clear and as far as I know is still heart clear.
Furthermore, I have received comments from a number of people including some well respected breeders who especially doubt a genetic cause for Randy's heart murmur due to a combination of
1) its rapid onset (we can prove within a 6-8 week window exactly when the murmur started) and
2) Randy's age (nearly 5yrs old) and
3) history of travel (increases potential for exposure to viruses - apparently there are a few that can cause MVD) and that he was on an out-of-state trip arriving home (and not feeling well for a few days) just two weeks before the murmur was found and could have picked up such a virus during that trip)
and also
4) particularly his having had some dental problems just a few months before the murmur was found (some plaque buildup/gum disease and the resulting teeth cleaning followed 2 months later by a busted tooth which had to be surgically removed under anesthesia via dental surgery which was done just 2 months before his murmur was found.
I have heard from several veterinarians that gum disease is a primary cause for endocarditis (inflammation surrounding the heart area) leading to MVD. Most of the veterinarians and canine cardiologists I have heard from generally agree that, all things considered, as far as odds go, at this time they feel that in Randy's case the acquired is actually the more likely to be the cause for Randy's murmur. They are also quick to point out that neither cause (genetic or acquired) would be beyond a reasonable doubt but feel it would be a shame to label it as genetic if its not. (The few who did not agree with the others, did so primarily by refusing to render an opinion either way & only saying repeatedly that there was simply no possible way to know.
So at this point, I must say that at this time I am not aware of any reason that the owners of Randy's children couldn't use them for breeding (as long as they were careful to choose only mates with strong heart clear bloodlines, of course). I will leave it to their capable hands to do the research and determine if the fur-child they have should be used for breeding. As for Randy and myself, I will be waiting awhile longer to make any decisions about Randy being used for stud. My life is simply too busy right now to deal with that.
This Page Last updated on 1/29/08
This site is maintained and copyrighted © by Suncrest Cavaliers 2008.