<![if !vml]>

<![endif]>
<![if !vml]>
<![endif]>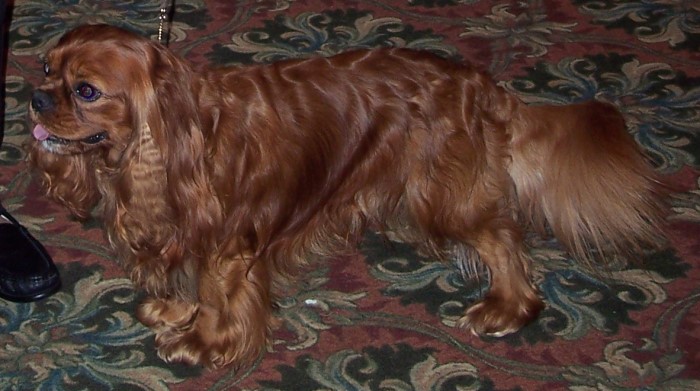 CH Portrait Eternal Flame - Randy
On the evening of October 11th, 2005, Randy (CH Portrait Eternal Flame) became a DADDY! He is now the proud father of three little fur-children. Firstborn was a handsome little Ruby boy just like his daddy. Second was a sweet little Black and tan boy, and third was a lovely little Ruby girl. All three are healthy and happy.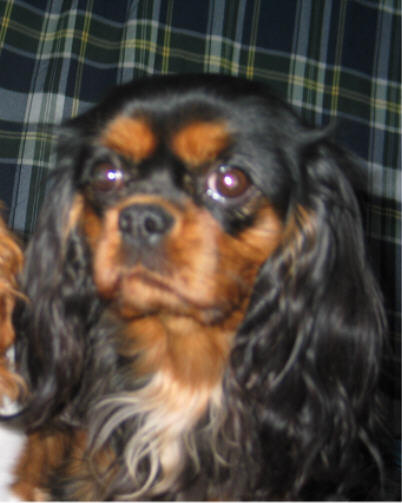 Their mom is Sammi (Brookhaven Play It Again Sam) a Black and Tan Cavalier, owned by Pat Brown in Chicago, Illinois. She sent us the following email about the children's arrival.
Well, I think Sammi may have broken some records last night. At 7pm she ate her entire dinner with relish. Even though she had been panting a bit all day, I took this to mean that nothing would be happening for awhile yet.
At 9pm I went to check in on her and found her with an 8.25 oz ruby boy!!! Both were doing fine. He was all cleaned up, but was still wet. So I tried to get everything together and settled in for a night of puppies. 25 minutes later, out popped a 7.75 oz B/T boy. He is doing fine, too. Then at not even 10pm she delivered my long awaited 8.25 oz. Ruby GIRL! That was it -- 3 pups in less than an hour!
Mom & babies are doing well. Sammi is acting like nothing ever happened and ready to eat anything that isn't nailed down. To be on the safe side, she only had a little kibble mixed with broth & cottage cheese.
Here are a couple of pictures. Wishing you all deliveries like this.
Pat Brown
Pictures from the night the babies were born: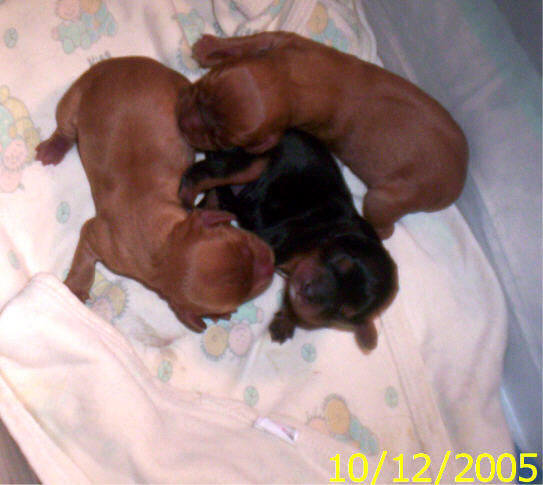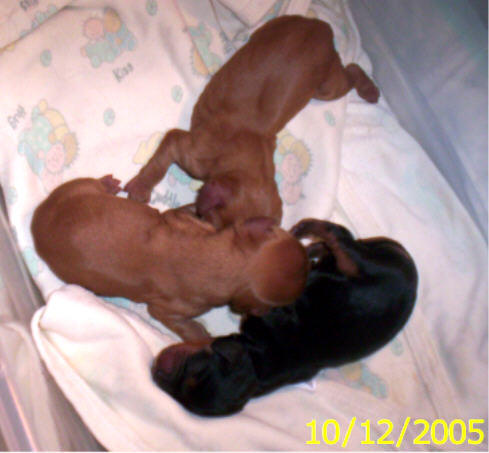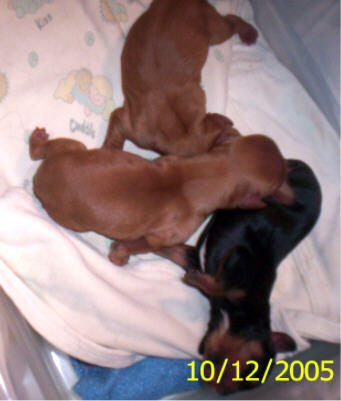 Age 1 week
Pat has now named the babies. Their names are as follows:
Cotillion Citizen Kane - Call name "Buddy: - B/T boy
Cotillion Shall We Dance - Call Name "Ginger" - Ruby girl
Cotillion Some Like It Hot - Call name "Wilder" - Ruby boy
They are each putting on around an ounce each day and doing well. Ginger is the largest & Wilder is the smallest
Picture taken at age 5 weeks: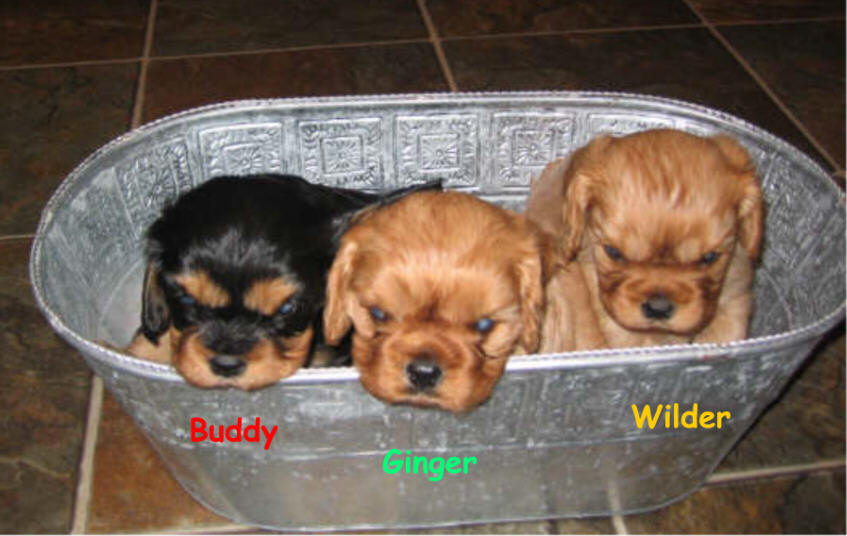 Pat's email dated Nov. 17th says of these cuties: "They are real characters who know to use their litter box and today discovered the joys of eating (and wearing) real dog food. They love people and other dogs, already acting like real Cavaliers."
Age 7 1/2 weeks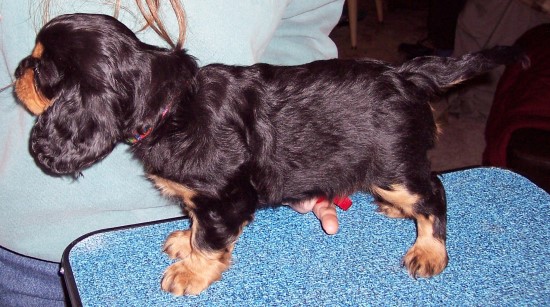 Buddy is a real sweetie.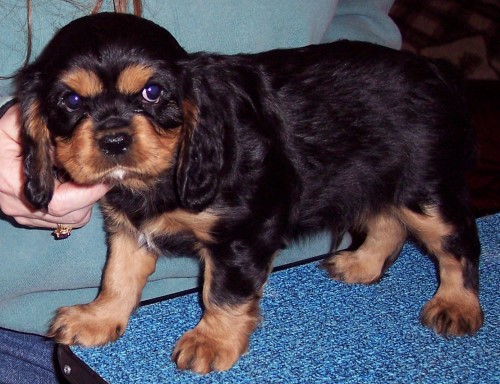 Buddy's permanent family has not yet been chosen. My wish is for him to have a loving family to call his own, hopefully one which will also give him an opportunity to see how well he can do in the show ring.
Ginger is a lovely little girl.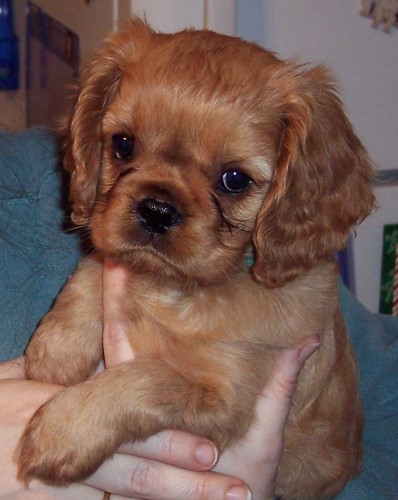 Ginger is destined for stardom and a Championship in the show ring and will be kept by Pat.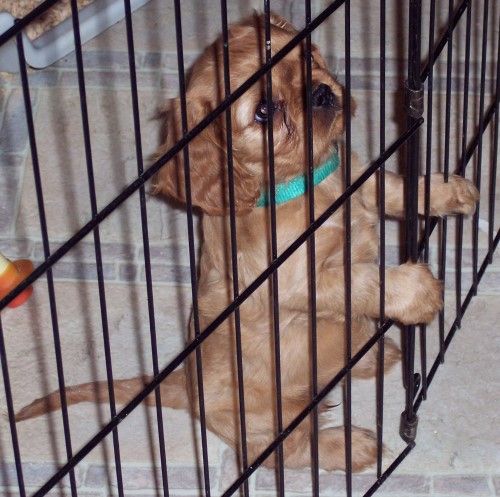 She has already perfected an irresistibly cute beg and has Pat completely wrapped around her little paw. It is normal for cavaliers to have their humans wrapped around their paws, but this one has mastered the skill much earlier than most.
Wilder is a real "Wild Man". He is every bit the rascal his daddy was at his age.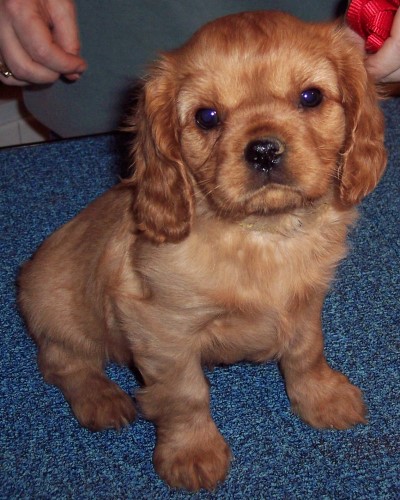 Wilder is also looking for a wonderful family whom he can call his own. He too would like to see if he can follow his daddy's footsteps all the way to a Championship. If this one's antics are anything like his daddy's, his family will be able to write a book full of his adventures. I have a feeling we have not heard the last from this one.
Video of Randy's fur kids at 7 1/2 weeks old!!! Click here!
(This video is a 21 MB download. That's 45-60 minutes download time with a 56k dial up connection; therefore, it is only recommended for those with high speed internet access.)
Age 3 months
Email from Pat on January 13th, 2006 - Buddy left for his new home in Brooklyn NY today. Lindsay and Brian Shea will be sharing there home with him, a tricolor named Angus, and a 16 year old Sheltie named MacDuff. They flew in to get him and are heading out today. Here is a picture of the new family. Pat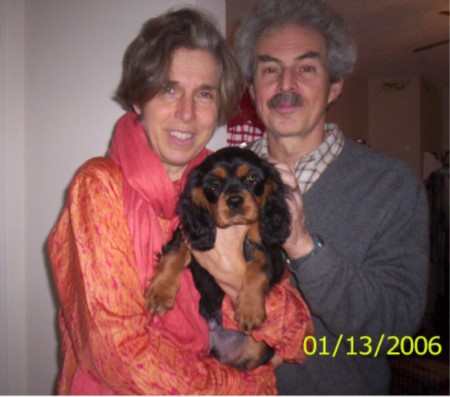 January 21, 2006 - We met up with Pat at the CKCSC dog show in St Louis, Missouri. She had both Wilder and Ginger with her so Randy got to see them again. We were especially delighted to find out that Pat has decided to keep Wilder as well as Ginger. She says that he deserves a chance in the show ring to see how well he can do. Randy was entered in the show both the 21st and the 22nd. He won third place in his class both days.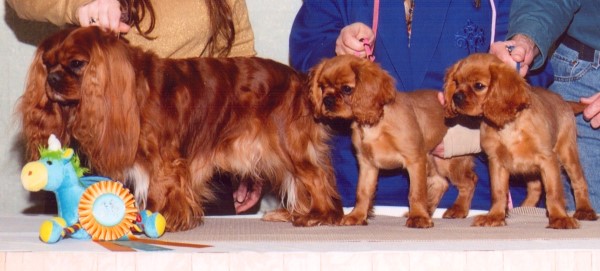 We just had to have a family picture of Randy with Ginger and Wilder. (Ginger is the one in the middle and Wilder is on the right.)
Age 4 months
Email from Lindsay Shea on February 6th, 2006 - Buddy aka Lenox is DEVINE. We have a McBeth theme with McDuff our 15yr old sheltie, Angus one of Michael Hatter's tri colors is 2 yrs old and now Lenox, known to you as Buddy - we still say Buddy to him as his IS such a Buddy. He is great. He and Angus play and play and he is a good walker, does his business on the leash in the city - tries to climb out of his bag when in the subway, sleeps behind me on the chair at my desk as work, and runs and runs about in the country. He is so responsive and appreciative of people and attention. ... Well I shall be getting a digital camera for my birthday next week and definitely will send you photos. ... Tell Randy he is a great Dad. Lindsay
Well, Randy and Sammi's kids are growing up quickly. Here are the latest photos of Ginger and Wilder that I received from Pat on Feb. 23rd 2006.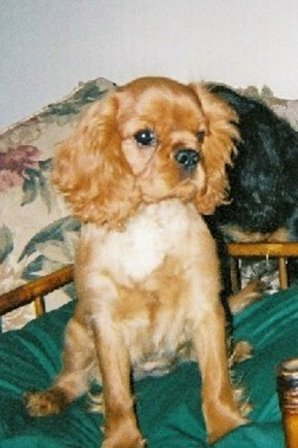 Ginger at 4 months.
Wilder at 4 months.
Age 8 months
Ginger and Wilder have been here visiting their daddy Randy and us for the past several weeks. They are as rowdy as ever. Wilder has already had his first big win in the show ring. Read all about it on Randy's First Litter - Page 2.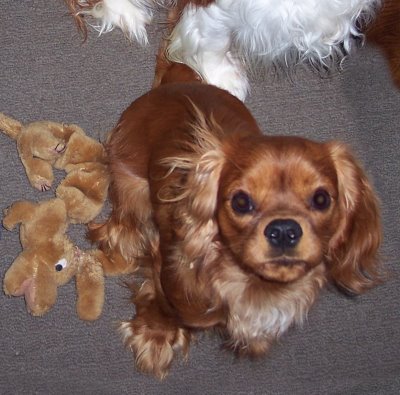 Wilder at 8 months.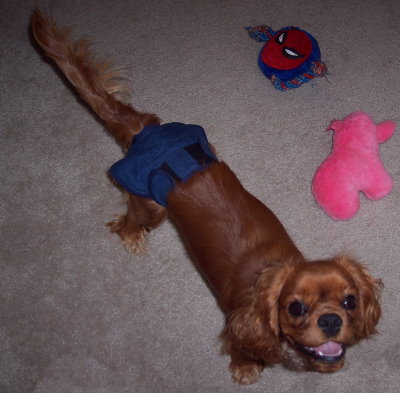 Ginger at 8 months.
Important Update - Added 11/18/06
We recently received some very sad news. Just after Randy returned from siring his second litter, Randy was diagnosed with a heart murmur near the end of September 2006 at age 4 1/2. With Randy now having been diagnosed with a heart murmur prior to age 5, according to the MVD protocol (www.cavalierhealth.org/mvdprotocal.htm and www.premiercavalierinfosite.com/mitralvalvedisease.htm), none of Randy's kids should be used for breeding unless that kid reaches the age of 5 and is still heart clear. Unfortunately, MVD (Mitral Valve Disease) is very common among Cavaliers and leads to a very early death for many of our beloved Cavaliers. For more info see www.cavalierhealth.org, www.premiercavalierinfosite.com, and www.ckcsc.org. - SEE HEALTH UPDATE BELOW (A Welcome Bit of Good News)
<![if !vml]>

<![endif]>A Welcome Bit of Good News! - Added 12/15/07
In August 2007, I received some very welcome good news! Randy had his 1 year follow up with the canine cardiologist ... (read the rest at the bottom of the next page)
Go directly to read my good news at A Welcome Bit of Good News!
or
Continue on to Randy's First Litter - Page 2
This Page Last updated on 1/29/08
This site is maintained and copyrighted © by Suncrest Cavaliers 2008.