<![if !vml]>

<![endif]>
Ginger at 9 Months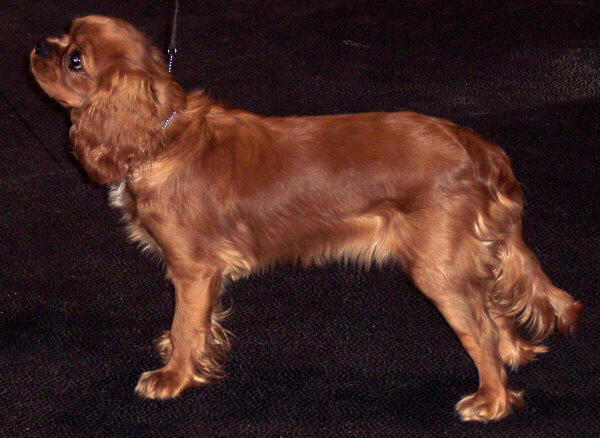 Ginger has not had any wins in the show ring that I am aware of.
Wilder's Show Pictures
(at 7 & 9 Months)
Wilder's first CKCSC show was a big one - the CKCSC National Show in Louisville, Kentucky in March 2006. It was a very big 2 day CKCSC show with some tough competition. I even met some other exhibiters from England and Australia! Wilders class was a very large class with 18 entries each day and most of them Blenheim color. However, their were 3 other Ruby color cavaliers like Wilder entered in his class. On Saturday, Wilder did not win anything, but he did very well in the ring. Then on Sunday, the show held a very proud moment for Randy and Pat and I when Wilder won a second place in his class with me showing him.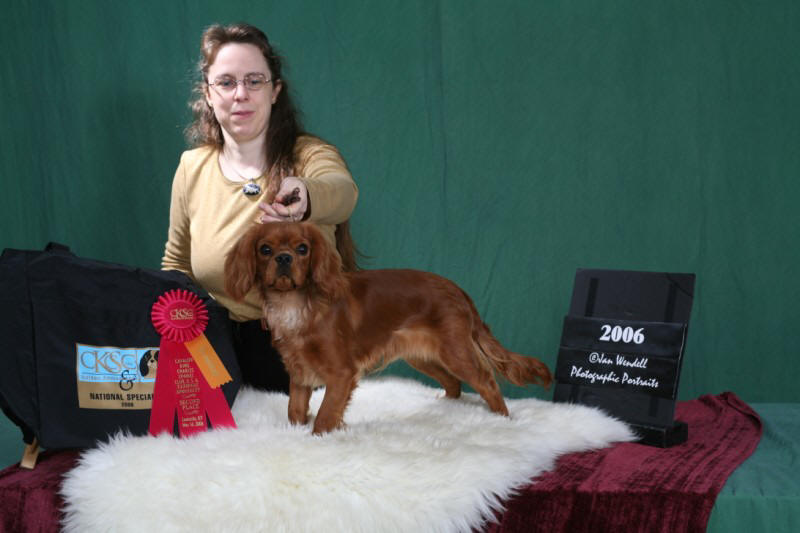 Wilder and I at the CKCSC Nationals in Louisville, KY in March 2006.
Wilder's most recent show was the Indianapolis, In CKCSC Show in July 2006. He won a fourth place in his class in the Friday night Puppy Sweepstakes.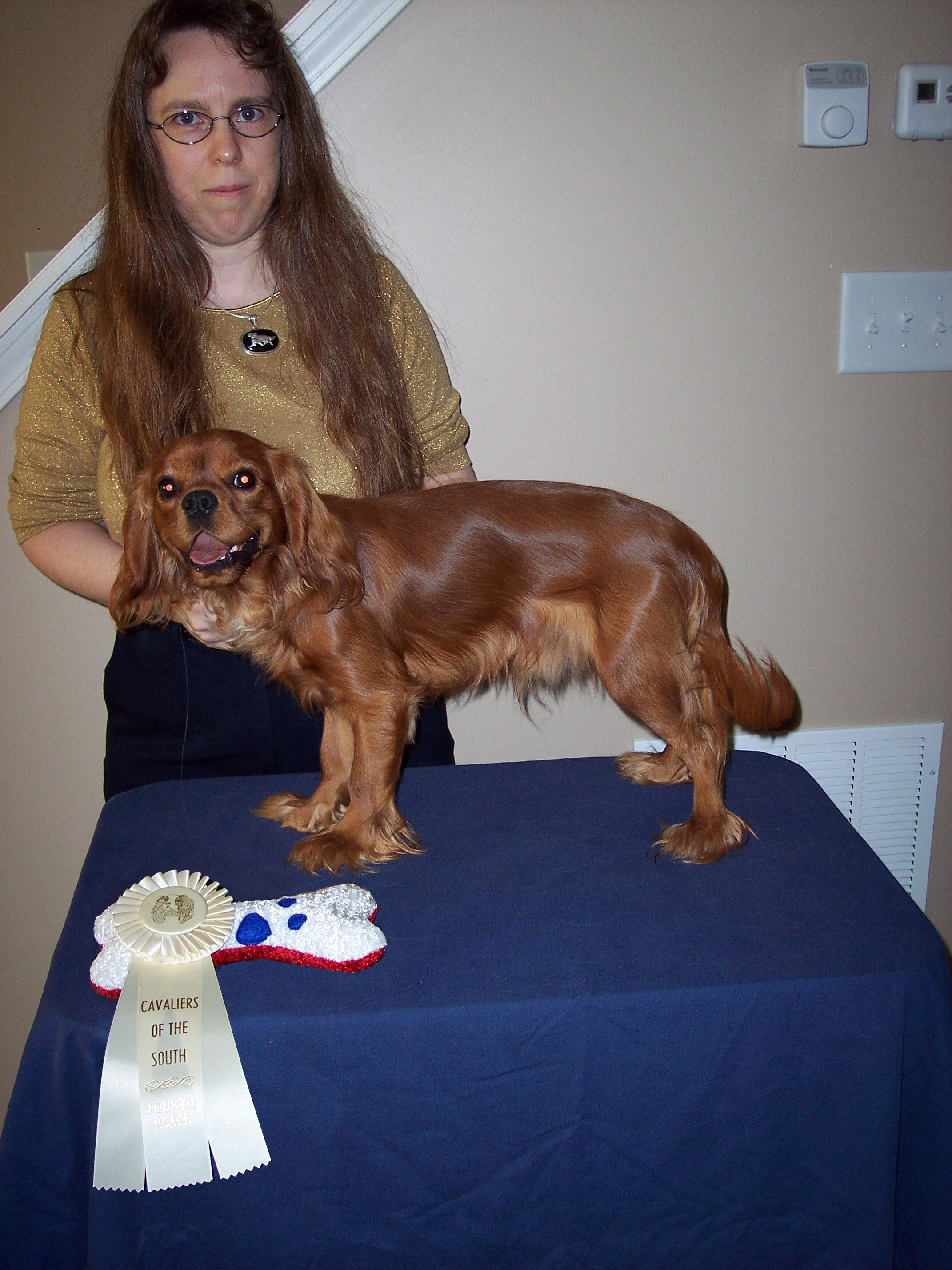 Wilder and I with his ribbon and toy from the Indianapolis, IN CKCSC Show in July 2006.
Ginger & Wilder Turn 1 Year Old!
On Octoober 11, 2006 Ginger, Wilder, and Buddy (who now goes by the name Lenox) turned One Year Old! Ginger and Wilder celebrated the occasion with lots of treats and new toys too. Lenox (previously known as Buddy) is still owned by and lives in New York with Brian and Lindsay. I haven't heard any more about Lenox since the February 2006 email I quoted on the previous page. When I receive more news or some updated photos, I will post them.
Important Update - Added 11/18/06
We recently received some very sad news. Just after Ginger and Wilder's daddy Randy returned from siring his second litter, Randy was diagnosed with a heart murmur near the end of September 2006 at age 4 1/2. With Randy now having been diagnosed with a heart murmur prior to age 5, according to the MVD protocol (www.cavalierhealth.org/mvdprotocal.htm and www.premiercavalierinfosite.com/mitralvalvedisease.htm), none of Randy's kids should be used for breeding unless that kid reaches the age of 5 and is still heart clear. Unfortunately, MVD (Mitral Valve Disease) is very common among Cavaliers and leads to a very early death for many of our beloved Cavaliers. For more info see www.cavalierhealth.org, www.premiercavalierinfosite.com, and www.ckcsc.org. - SEE HEALTH UPDATE FURTHER BELOW (A Welcome Bit of Good News)
<![if !vml]>
<![endif]>More Sad News - A Very Sad Time
At the end of December 2006 I received news that Pat (Ginger and Wilder's Breeder and my friend) was seriously ill. She then passed away in May 2007 and I still miss her, especially at the dog shows. They are just not the same without her.
Ginger and Wilder now have new homes which Pat chose before she passed. I am very glad that Ginger and Wilder both appear to have absolutely wonderful homes with their new people.
Wilder (12-24 Months)
Cotillion Some Like it Hot (Wilder) now lives with and is owned by Kathie of Abyding Kennel (a friend of Pat's - and now hopefully becoming a friend of mine as well) who rescues Golden Retrievers and plans to enter the world of 'conformation' Dog Showing for the first time with her first time in the conformation ring to be with Wilder.
She writes (condensed from multiple emails in February & March 2006):
I have been rescuing golden retrievers for more than twenty years. Usually these are dogs who were relinquished for whatever reason. I would immediately have them spayed/neutered if not already done, attend to any other health issues, train them to be good companions with basic obedience, and rehome them at no cost to the new home. ...For a number of years I have been interested in competing in the show ring. I have several friends who do this (with other breeds - miniature schnauzers, party cockers, shelties) as a hobby. They have been talking to me for years about getting into a smaller breed for travel and logistical reasons. I became interested in the cavalier because they are compared to the goldens in so many ways. Of course then the rubies are my favorite.
... I intend to have him at IKC at the end of February. Wilder's biggest fault when being handled by me will be his handler. It is for this reason that I consider showing him in conformation to be an opportunity. Later, I intend to show him in obedience (this ring I am familiar with). Before I invest in a really good show puppy, I need to practice and train to be sure that I can do this (conformation). In my heart, I just do not think I would be a good steward if I bought a show puppy, then tried to learn about conformation.
... I am a nurse with a long cardiac/critical care background. I cannot hear a murmur nor have I seen any thing that would suggest profusion insufficiency in the Wild man. I, of course, have taken him to the vet since he came to stay with us. She also cannot hear disadvantageous heart sounds. ... the vet, recommended Wilder have an echo to rule out any heart defect. We have this scheduled with a Cardiologist. The Cardiologist also recommended a nuclear study that we intend to do. ...
...Wilder has many toys he likes. He does seem to have a preference for balls. I do not have a toy that is similar to what you have described. His favorite time is when we take him up to the school. In the school, there are two gyms side by side. I open the doors between the gyms and close all the other doors. I get out a lot of balls then I walk laps around the gyms for an hour. The dogs all follow me - and while I walk I kick a ball that I come across. Wilder and Max really love to chase the balls that are kicked. Its really funny to listen to Wilder growl at the balls. Its lots of fun for the dogs. And, its good for all of us.
As far as my plans for Wilder goes, I am playing it by ear. ... Wilder caught my eye the first time I saw him late last spring. He was with Ginger at Pat's. Pat thought Ginger was the better of the two. I fell in love with Wilder. Rubies have always been my favorite - and I like his length of muzzle better. I plan to show him, when I can, ... I will take him to obedience also. ...I have plans to have both Gypsy and Wilder at the IKC at the end of the month.
Kathie
I haven't heard anything more about Wilder since March 2006. Again, when I receive more news or some updated photos, I will post them.
Ginger (12-24 Months)
Cotillion Shall We Dance (Ginger) now lives with and is owned by Elaine of Willowyn Kennel (a mutual friend of Pat's and mine) who plans to show Ginger and hopes to be able to breed her one day. In July 2007, Elaine gave me some absolutely beautiful photos of Ginger and told me she is doing well and turning out to be a real beauty. The photos she gave me have been scanned into the computer and are below along with some of the last photos I have of Wilder (taken in July 2006).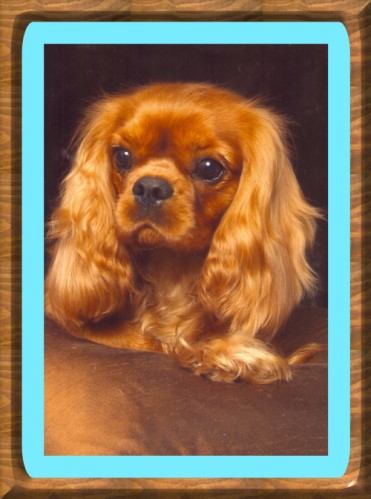 Cotillion Shall We Dance (Ginger) - Photo received July 2007.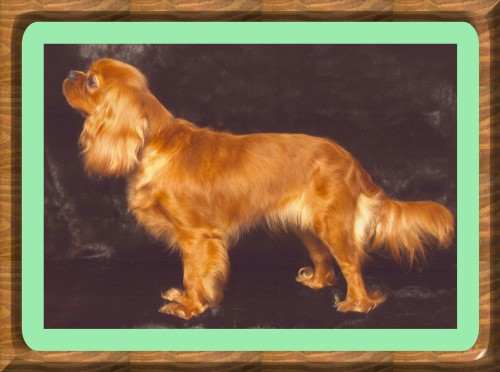 Cotillion Shall We Dance (Ginger) - Photo received July 2007.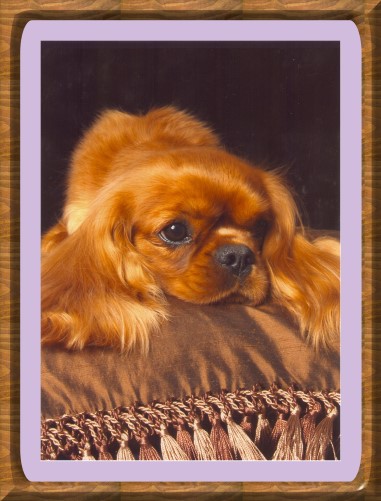 Cotillion Shall We Dance (Ginger) - Photo received July 2007.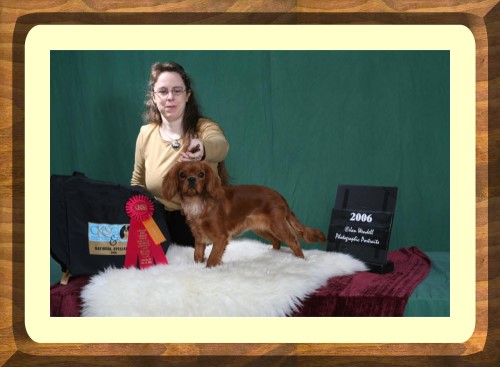 Cotillion Some Like It Hot (Wilder) - with me at May 2006 CKCSC Show in Louisville, KY.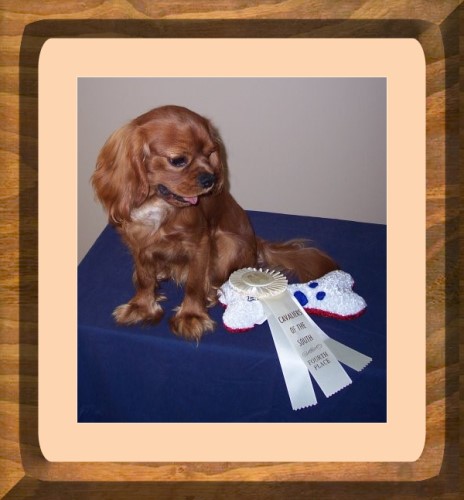 Cotillion Some Like It Hot (Wilder) - July 2006 CKCSC Show in Indianapolis, IN.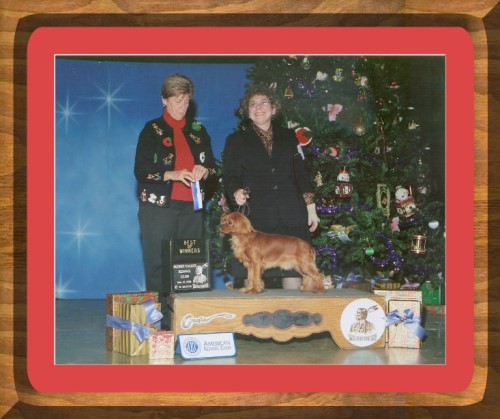 Cotillion Some Like It Hot (Wilder) - December 2006 AKC Show with the judge and Pat.
Well, that's the latest info I have on Randy's first litter of fur-kids. But I do have some important updated info for everyone about their daddy Randy...
<![if !vml]>

<![endif]>A Welcome Bit of Good News! - Added 12/15/07
In August 2007, I received some very welcome good news! Randy had his 1 year follow up with the canine cardiologist and while he still has the murmur, it has not progressed at all and he is expected to live a good many more years. The canine cardiologist explained that canine MVD usually (as general pattern, but no guarantees) falls into one of two kinds - a fast progressing kind that usually claims the dog's life within a few months to a few years OR a slower progressing kind that often does not progress at all for many years and in which cases the dog will usually die of old age or some other illness before the MVD can take them. We have now determined that Randy appears to have the slower kind, and this is a great relief to me!
This all means that while the owners of Randy's children may want to still be cautious and have their hearts thoroughly examined and tested (at least ultrasound and x-ray) by a canine cardiologist before making a final decision about using them in any breeding program, it now looks like it may not be quite as critical an issue (since his heart murmur has not gotten any worse - however, MVD is still a very serious issue in cavaliers) but I am certainly less concerned that he might pass on something to his offspring that might significantly shorten their lives. I will also say that I know next to nothing about genetics and that the two litters Randy has sired this past year have been my only experience with any part of the breeding process. So, I do not know if the MVD protocol I discussed above applies only to the fast progressing kind or if it also applies to the slow kind that Randy appears to have. I also do not know what weight it may carry that Randy did not develop the heart murmur until he was almost 5 years old and Sammi, the mother of Randy's first litter, definitely did make it to five heart clear and as far as I know is still heart clear.
Furthermore, I have received comments from a number of people including some well respected breeders who especially doubt a genetic cause for Randy's heart murmur due to a combination of
1) its rapid onset (we can prove within a 6-8 week window exactly when the murmur started) and
2) Randy's age (nearly 5yrs old) and
3) history of travel (increases potential for exposure to viruses - apparently there are a few that can cause MVD) and that he was on an out-of-state trip arriving home (and not feeling well for a few days) just two weeks before the murmur was found and could have picked up such a virus during that trip)
and also
4) particularly his having had some dental problems just a few months before the murmur was found (some plaque buildup/gum disease and the resulting teeth cleaning followed 2 months later by a busted tooth which had to be surgically removed under anesthesia via dental surgery which was done just 2 months before his murmur was found.
I have heard from several veterinarians that gum disease is a primary cause for endocarditis (spelling?) (inflammation surrounding the heart area) leading to MVD. Many of the veterinarians and canine cardiologists I have heard from generally agree that, all things considered, as far as odds go, at this time they feel that in Randy's case the acquired is actually the more likely to be the cause for Randy's murmur. They are also quick to point out that neither cause (genetic or acquired) could be ruled out beyond a reasonable doubt but feel it would be a shame to label it as genetic if its not. (Those who did not agree with the others, did so primarily by refusing to render an opinion either way & only saying repeatedly that there was simply no possible way to know.
So my conclusion is this: At this point, I must say that at this time I am not aware of any reason that the owners of Randy's children couldn't use them for breeding (as long as they were careful to choose only mates with strong heart clear bloodlines, of course). I will leave it to their capable hands to do the research and determine if the fur-child they have should be used for breeding. As for Randy and myself, I will be waiting awhile longer to make any decisions about Randy being used for stud. My life is simply too busy right now to deal with that.
This Page Last updated on 1/29/08
This site is maintained and copyrighted © by Suncrest Cavaliers 2008.