<![if !vml]>

<![endif]>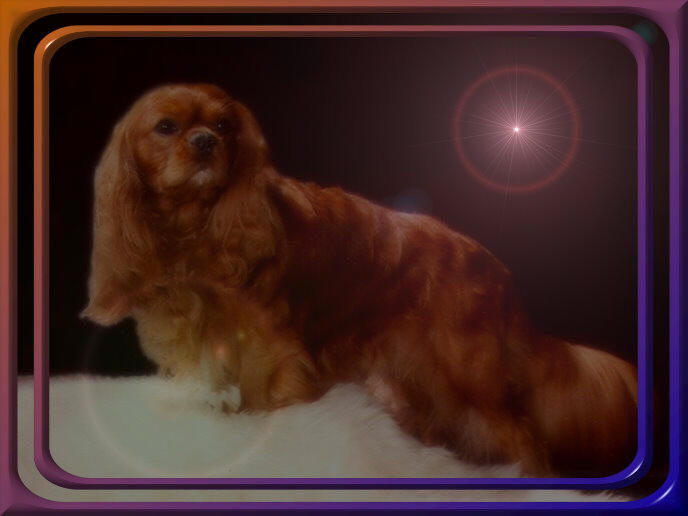 CHAMPION PORTRAIT ETERNAL FLAME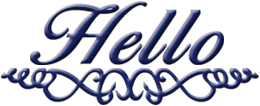 I am a Ruby color Cavalier King Charles Spaniel. My formal registered name is Champion Portrait Eternal Flame, but my everyday name is Randy Cole Ulrich. My birthday is May 8th, the same day as mummy's, but I was born in 2002 and mummy was born lots earlier. I came to live at Suncrest Cavaliers with my mummy about 5 years ago, when I was just 10 weeks old. Mummy says I am quite a character and that I am 300 percent red-headed personality! My nickname is "Romeo Randy" because I put my whole heart into everything I do and because I like to romance the ladies - both human and canine.
I am currently retired (at least temporarily), but I have worked hard on my show career. I have gone to American Kennel Club (www.akc.org) shows and completed my Championship in that club. In June 2005, I won two FIVE POINT MAJORS in just two weeks and finished earning my AKC Championship!!! After that I continued going to Cavalier King Charles Spaniel Club (www.ckcsc.org) shows to try to become a Champion in that club as well. At the time I retired, I had earned 4 points toward my CKCSC Championship!!! Mummy likes it that I continued to consistently place in the CKCSC shows. We are told it is very hard to consistently place in this club.

Read all about it on my show page!

Randy's Show Pictures (narrated by my mummy)
(Time to load - about 5 minutes at 56k)


On the evening of October 11th, 2005, I became a DADDY! I am now the proud father of three little fur-children. Firstborn was a Ruby boy just like me. Second was a Black and Tan boy, and third was a Ruby girl. All three are healthy and happy. My two Ruby kids have come to stay for visits a few times.
I became a daddy for the second time on November 7th, 2006! I am now the proud father of one more little fur-child, a handsome little Blenheim boy.

<![if !vml]>

<![endif]>Randy's fur-children (narrated by my mummy)
(Time to load - about 1 minute at 56k)

<![if !vml]>

<![endif]>My Latest Health Update! Important! -Added 12/15/07
(narrated by my Mummy)
A Little History
When I first came to Suncrest Cavaliers, my brother Spencer was already here. His Registered name is CH Countrymanor George W. and he is now 6 years old. (The CH in front of his name means he is a Champion.) His everyday name is Spencer Lee Ulrich. He is the red and white cavalier in the picture below and his color is called Blenheim. Two years before I got my Championship, he received his AKC Championship! Mummy and Spencer were both sooo excited about that. His birthday is January 4.

About a year after I came to Suncrest Cavaliers, mummy brought home Kody Levi. When we got him he was only 9 weeks old. His registered name is Cotillion Tucson By Night and he is now 4 years old. Kody is the Black & Tan cavalier in the picture below. His birthday is March 30. Kody was diagnosed with cataracts so Kody now lives with a great family in northern Illinois. His daddy is a canine ophthalmologist and his mummy is a VET!!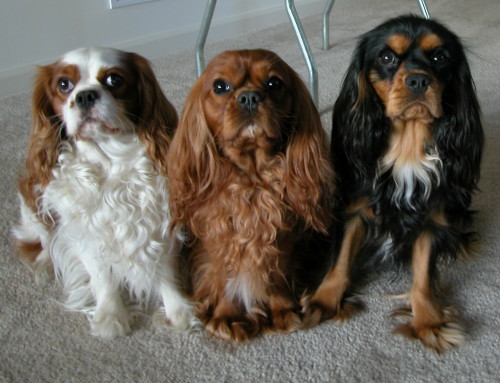 Here is a picture of me and my brothers.
Click the links below to see some pictures of my brothers and me.


<![if !vml]>

<![endif]>Picture Gallery Page - Index of all the picture pages. We have recently added new pictures. Be sure to check out our famous Bath Pictures and My Baby Pictures and Kody's Baby Pictures.

Our Most Recent Pictures - slow to load, but not to bad.
(Time to load - about 5 minutes at 56k)


You can also click the link below to see pictures of my whole family, including our 2007 Hanukkah/Christmas/New Years Card and our Christmas 2004 picture with Santa Paws.

Family Pictures
(Time to load - about 2 minutes at 56k)

We Have Moved!
A few years ago, not long before I turned 2 years old, we moved into a big new house for all of us! We even had a big privacy fenced back yard to run and play in. Then several months ago, just after I turned 5, mummy and daddy took us and MOVED AGAIN! Now what did they go an do that for? This time we moved into a much smaller house and it did not even have a fence at all until Mummy had some guys put one up, but it is still much smaller than our old one and the back yard here is crooked too - really crooked. I miss our other big house and big fenced yard. The only thing I ever heard about it was something about not enough green stuff (so why'd they get a smaller yard instead of a bigger one if they wanted more grass - it don't make sense, it don't make sense at all) and something about too many doctors vets and getting rid of the stairs (Now what does grass have to do with stairs and doctors vets? I do not understand - not a bit).
And now because we still don't have enough of that grass, Mummy tells us that Spencer is going to be getting a new family for Christmas and moving to live with them like Kody did. One good thing about that though - Spencer will get to help lots of people at his new place just like he has always wanted to do. Spencer says helping people lots is called doing 'therapy' with people. He says he will miss mummy and me very much and he still misses Kody sometimes too (we all do), but he is glad to be getting an opportunity to do that therapy job with lots of people. So Spencer will have a job soon, maybe like daddy does and my 'job' will be to stay with mummy and take care of her. Of course, without Spencer and Kody here to help me, I will have to keep a much closer eye on her, but I like watching mummy so that part will be good.
On Christmas Day 2007 Spencer went to live with his new family. He has another cavalier that looks just like him for an older brother and a big house and yard. He also has a mummy and daddy that I hear are treating him and his new brother like the royalty that they are. Mummy and I both miss him very much, but mummy says we should get to see him sometimes since he just lives on the other side of town. I have not decided if I like being an only fur child or not. Some things are good like not having to share treats or mummy or toys, but I get lonely sometimes now too and that part I do not like. Mummy says that she wants to get me another brother again "someday after we get more of that green stuff". I really do not see any shortage of grass around here except when it gets really cold and turns all white outside. I guess she does not like the cold white stuff any more than I do lately.
<![if !vml]>

<![endif]>Our House - Pictures of what our current house looks like.
(Time to load - about 1 minute at 56k)

Our Previous House - Pictures of our previous house.
(Time to load - about 1 minute at 56k)


Spencer has gone to a lot of Dog Shows to win Ribbons for mummy and he worked hard on becoming an AKC (American Kennel Club) Champion. In June 2003, he received his Championship. To be a Champion he needed to have two Majors and at least 15 points. A Major is a win which is worth at least 3 points. The points are based on the number of other Cavaliers one beats. The largest number possible to get at one time is a 5 point Major. Spencer earned a total of 19 points including one 4 point Major. He also earned a 3 point major and the rest of his other points are eight different one point wins and two different two point wins. He was finally a Champion! His ninth point was at a show in Illinois where he won his very first Best Of Breed. He won mummy a VERY big ribbon and mummy was pretty excited, but she was even more excited when Spencer and I each got our Championships!
Click the link below to see pictures of Spencer's Wins.
Spencer's Show Pictures - (narrated by my mummy)
May take a few minutes to load, but well worth it!!!
(Approximately 3 minutes at 56k)

I HAVE VIDEO!!!

Mummy says I can only have one video at a time because we only get so much space for my website. But here is the current video. It is of me begging for pizza. Even I must admit I do a really cute little beg.

Video Page
(The current video is a 10 MB download. That's 30-40 minutes download time with a 56k dial up connection; therefore, it is only recommended for those with high speed internet access. )



I am always on the lookout for another Cavalier to add to our family!!! Maybe you can help! Click the link to find out more...

<![if !vml]>

<![endif]>
<![if !vml]>

<![endif]>
I have my very own email address.
Click here for links to email me or my Mummy.
If you have any questions about Cavaliers or need to report a problem with my website, please
Click here for a link to email my Mummy.
Visitors
Site Last updated on 1/29/08
This site is maintained and copyrighted © by Suncrest Cavaliers 2008.